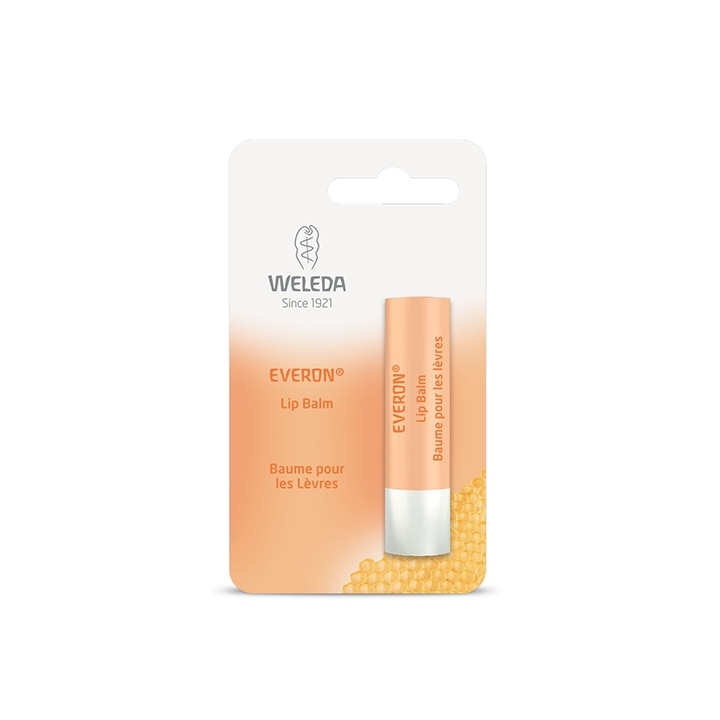 Weleda Everon Lip Balm 4.8g
Our best selling lip balm!
Protects and moisturises lips Weleda Everon Lip Balm has been carefully formulated to protect the lips from drying, cracking and chapping. This simply beautiful product is scented with delicate musk rose. It not only protects the lips as a barrier, but also soothes after exposure to sun and wind. The natural waxes give a sun protection factor 4 without the use of synthetic UV filters. 
After removing the lid rotate the coloured base to reveal a small amount of the stick. (To prevent breaking the stick, raise it only just above the plastic tube). Apply a thin coating over the lipsPlease note: due to natural variations in the beeswax contained in Lip Balm the colour may alter slightly from a previous pack. Also, if the Lip Balm has been stored in warm conditions it may appear to 'sweat' as the combination of fats and waxes separate.
Jojoba oil, Beeswax, Shea Butter, Candelilla Wax, Rose Wax, Carnauba Wax, Vanilla Extract, Rose Extract.
12 in stock