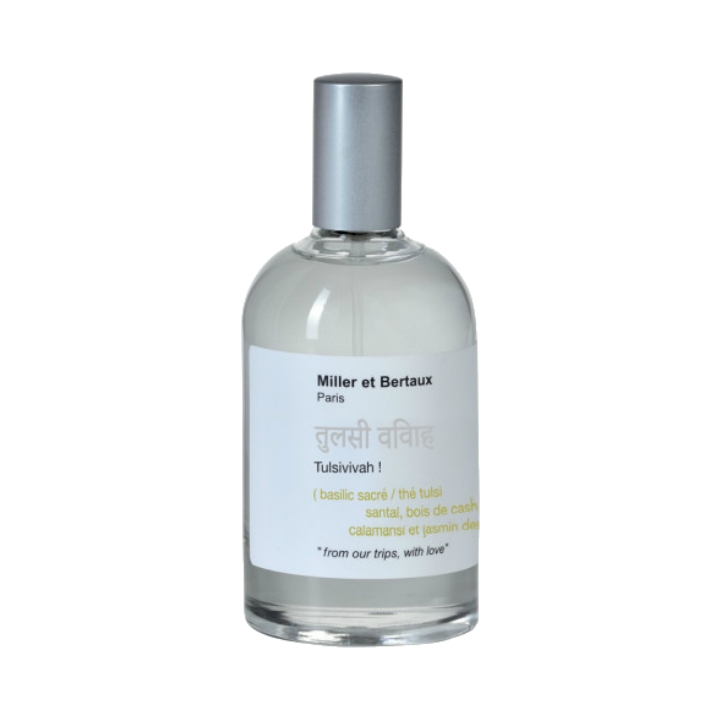 Tulsivivah! EDP 100ml
Tulsivivah! celebrates the festive scent of India. The fragrance celebrating the festival of Tulsi, the holy basil. A vision of the beauty of India with the simplicity of Tulsi Basil and the zest of Calamansi (a small lemon) creating a fresh zing and then revealing a creamy Sandalwood and Jasmine combination that reveals the sensuality and mystical depth of India. The Tulsi festival signifies the end of monsoon, the beginning of the wedding season in Hinduism. The zesty freshness this fragrance opens with speaks of the energy of the festival with the warm earthy base, revealing the exotic and complex depth of India.

NOTES
Top: Tulsi (Holy Basil) Tea, Calamansi
Middle: Indian Jasmine
Base: Sandalwood, Cashmere Wood

PERFUMER
Vincent Ricord 

HOW IT WEARS 
Tulsivivah! Is an Eau de Parfum that should give you 6 - 8 hours longevity on the skin. This festive vision of India is a simple fragrance of herbaceous green, citrus, spices and the soft woods and sensual creamy Jasmine note. Youthful and light, with a deeper dry down of elegant woods to capture it's earthier bottom end. 

LORE LOVES 
We adore that Tulsivivah! is essentially a celebration of Mother Nature & her great medicinal gifts. First and foremostly, as it's namesake suggests, the Tulsi Holy Basil plant. This happy, uplifting fragrance is an ode of gratitude for the health & happiness this herbal tonic gifts to the person who drinks it, infusing the body and aura with it's healing, green goodness. Feels a bit like a sun shower in a bottle.

ABOUT THE BRAND 
Partners in life, artists and adventurers, Francis Miller and Patrick Bertaux opened a boutique in the Marais, Paris to share their inspiration; their wonderful finds with the world. From here, a fragrance collection was born. A series of stories, of experiences and of places brought to life in fragrance. "Fragrances for the body and soul, dedicated to those who chose the balance of being and appearance. " The eclectic nature of their vision, and their trips translated into perfumes.

FREE RETURNS
Love your fragrance or return it for free. Learn more about The Lore Promise here.
3 in stock