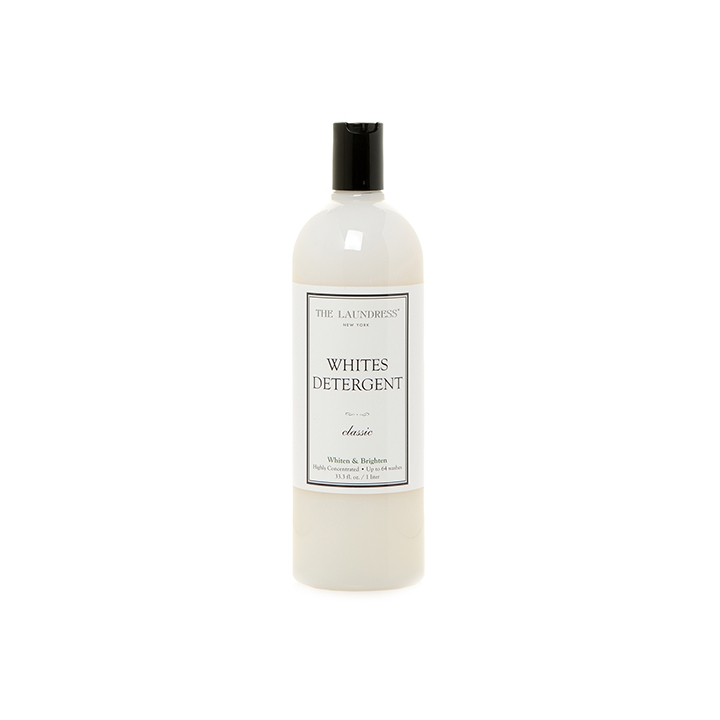 Whites Detergent 1 Litre
The Laundress knows how hard it can be to keep your whites white. Fight dull, dingy-looking T-shirts, yellowing sheets, and other lacklustre linen with our knock-your-socks-off Whites Detergent. Safely brightens colours, too! Whites Detergent is The Laundress' formula designed for "everyday whites." Everyday items are made of cotton, linen, or durable synthetics: socks, cotton underwear, white T-shirts, button-down shirts, and sheets and towels. Whites Detergent is formulated with natural bleach alternative, surfactants, and stain-fighting enzymes that are not found in grocery store-brand products.

The 'Classic' scent in Whites Detergent is the ultimate 'clean, laundry smell' – it leaves you feeling soft and cocooned in all of your clean laundry. With notes of Lily of the Valley, Jasmine, Sandalwood, Sweet Musk and a touch of Citrus.
Highly concentrated – up to 64 washes.
Non toxic, biodegradable, and allergen-free.
Free of petroleum, phosphate, phthalates, and artificial colours.
Cruelty free. No animal by-products.

ABOUT THE BRAND
Many laundry cycles ago, The Laundress founders Gwen Whiting and Lindsey Boyd were young fashion enthusiasts; launching careers in one of the worlds best dressed cities, New York. Whilst building their wardrobes they were confronted with the frustration of maintaining them: replacing prematurely worn items and paying painful dry cleaning bills on a weekly basis. In 2002, the pair spent two years researching and developing the very elixirs they (and their wardrobe) longed for. The result – a highly effective, non-toxic line of laundry products. Each product is carefully crafted to work its magic on a specific fabric with outstanding results. A work of art built on science. The Laundress collection is sophisticated, eco-conscious, and easy to use.

LORE LOVES
We love crisp white whites here at Lore and this detergent is both gentle on our laundry whilst ensuring each wash makes your whites even brighter!


Sort laundry before washing, separating all whites for washing. If required, pre-retreat stains with the Wash and Stain Bar. Focus on susceptible areas such as underarms, necklines, and cuffs. Adjust the water temperature and cycle setting for the level of cleaning required (dirtiness) and size of the wash load. Add the Whites Detergent according to the machine type and load size. The most intense cleaning is achieved with hot water and a long cycle. We recommend adjusting the water temperature and cycle setting for the level of cleaning required (dirtiness) and size of the wash load. For example, white sheets and towels are best laundered with hot water and a long wash cycle, while everyday colours can be laundered using a normal cycle with warm or cold water.

Hand Wash – use 1 capful = 64 washes
HE Machine Regular Cycle – use 2 capfuls = 32 washes
Non HE Machine Regular Cycle – use 4 capfuls = 16 washes
Plant-derived anionic and nonionic surfactants, anti-graying, stain-fighting and cleaning enzymes (mannanase, protease, amylase, cellulase, lipase), mineral-derived cleaning enhancers (sodium gluconate, and calcium chloride), essential oils, and fragrance. CAUTION: Keep out of reach of children, do not ingest, and avoid contact with eyes. If ingested seek medical advice.
2 in stock