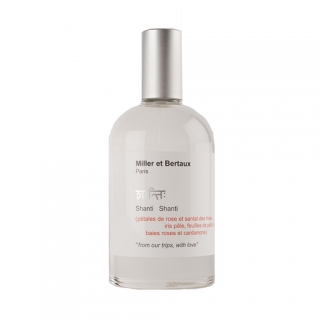 Shanti Shanti EDP 100ml
Inspired by travelling throughout India, Shanti Shanti will give you inner peace. Translating to 'peace, peace', Shanti Shanti is a vision of joyous India, festivals, throwing red rose petals amongst the delightful chaos. Finding peace within the chaos. A delicate and gentle Rose based fragrance with a soft, earthy base. The softness of the Rose note grounds and offers a loving sweetness. With a hint of spice this fragrance is smooth, balanced and feminine.

NOTES
Top: Cardamom, Pink Berries
Middle: Rose, Iris
Base: Patchouli, Sandalwood 

PERFUMER
Vincent Ricord

HOW IT WEARS
Shanti Shanti is a essentially a Rose based Eau de Parfum that will give you a good 6 – 8 hours worth of wear on the skin. This floral has delicate hint of Sandalwood & soft spices leaving the Rose to bloom majestically as the stand out note, even after the dry down has revealed the slight hint of powder from the Iris.

LORE LOVES
Just as it's name suggests, we love how Shanti Shanti effortlessly combines the Rose notes with creamy woods & gentle spice, to create a sense of inner peace and calm. A fragrance for all seasons, and/or the Rose lover chasing a taste of exotic adventure. 

ABOUT THE BRAND 
Partners in life, artists and adventurers, Francis Miller and Patrick Bertaux opened a boutique in the Marais, Paris to share their inspiration; their wonderful finds with the world. From here, a fragrance collection was born. A series of stories, of experiences and of places brought to life in fragrance. "Fragrances for the body and soul, dedicated to those who chose the balance of being and appearance. " The eclectic nature of their vision, and their trips translated into perfumes.

FREE RETURNS
Love your fragrance or return it for free. Learn more about The Lore Promise here.
2 in stock