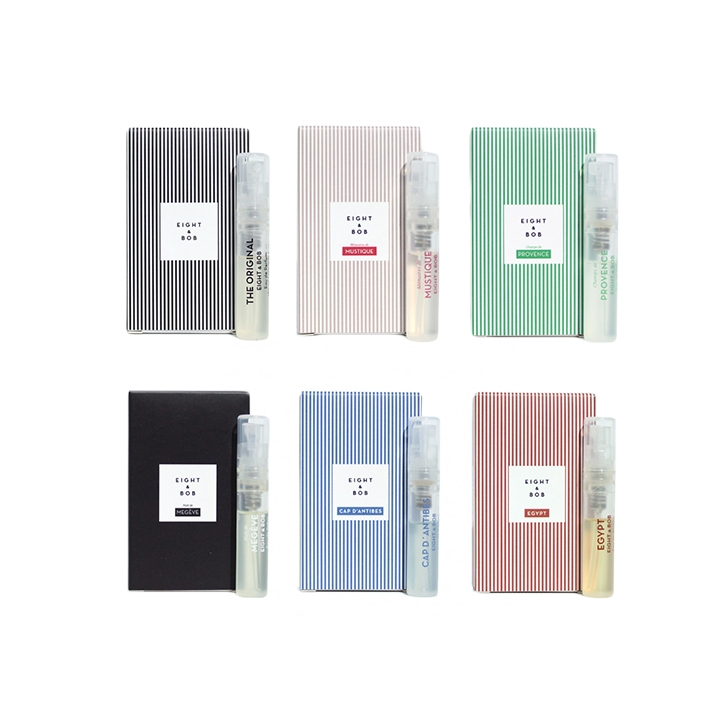 Sample Pack – Men's 6 x 2ml
Online only
EIGHT & BOB Sample Pack.
Includes 1 x 2ml sample of each Eight & Bob Men's fragrance. Perfect for sampling the range.

Please note, this product is not boxed.

Contains 6 x 2ml EDPs
Original
Egypt
Cap d'Antibes
Mémoires de Mustique
Nuit de Megève
Champs de Provence

PERFUMER
Albert Fouquet

ABOUT THE BRAND
The perfume with history - Eight and Bob was created by Albert Fouquet, the son of a French aristocrat. In a room on the upper floor of the family château, Fouquet created and perfected various essences for his own personal use aided by Philippe, the trusted family butler. At social events his fragrance was in high demand, however Fouquet continually rejected proposals to market his fragrance. His fragrances were for his own delight, his own creative fulfillment and very personal as they told the stories of his favourite people and places. This all changed however, one night in 1937 when Fouquet met a young John F Kennedy who fell in love with his fragrance and the rest, as they say is history...
10 in stock