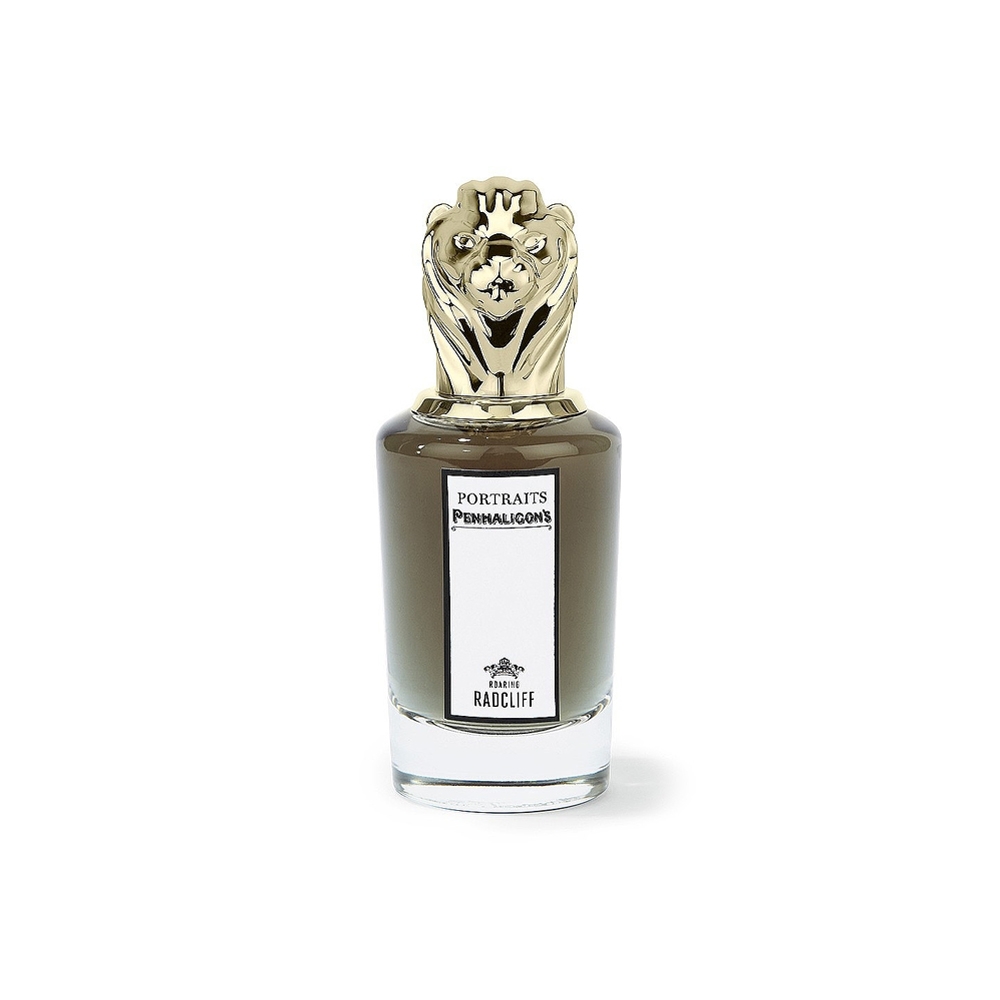 Portraits Roaring Radcliff EDP 75ml
Penhaligon's Portraits collection tells the story of England's finest aristocratic families, the tangled web of intrigue, scandal and secrets. This entertaining and exquisite line pays tribute to the true English spirit: stiff upper lip, sharp wit, and a knack for provocation. Roaring Radcliff is the secret son of Lord George and Clandestine Clara as a result of their love affair. A trouble maker, a charmer, he's the cheeky one that the well-bred girls find hard to resist. He's the 'bad boy', the problem is, he's just so damn charming! Sexy and rebellious, Roaring Radcliff loves fast cars, beautiful women, fine liquor. Think Tobacco, Rum and sweet spices. He smells like decadent parties of debauchery and indulgence!
 
NOTES
Top: Rum
Middle: Tobacco
Base: Ginger Bread

HOW IT WEARS
As you would expect, Roaring Radcliff is not a quiet scent. This is bold and delicious - sweet but not too sweet, just a perfectly blended scent of smoke, spice and warmth! Roaring Radcliff lasts well on the skin, we get atleast 8 hours with a good strong silage.

LORE LOVES
This is the lovable larriken of the family, and it smells as good as it sounds. Roaring Radcliff really is a hard one to resist, sweet yet rich and complex, this is an amazing date night scent that leaves a beautiful trail in the air!

PERFUMER
Daphne Bugey

ABOUT THE BRAND
A classic English perfume house, William Penhaligon owned a barber shop which became a perfumery in 1870, launching his first fragrance in 1872. This fragrance was created regularly for its many fans until the store was destroyed in The Blitz of 1941. Despite the store being destroyed, the fragrance house endured and was honoured with a Royal Warrant by the Duke of Wellington in 1956 for manufacturing toiletries. Many of the classic scents in Penhaligon's collection remain to this day, while many modern scents have been added. Penhaligon's remain true to William Penhaligon's vision of fine, traditional perfumes and techniques.

FREE RETURNS
Love your fragrance or return it for free. Learn more about The Lore Promise here.


1 in stock