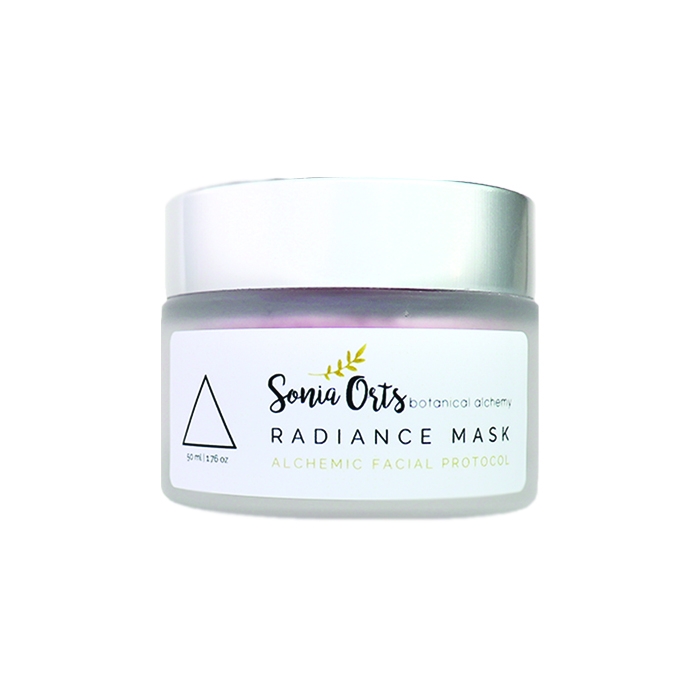 Radiance Mask 50ml
The Radiance Mask represents the element of Fire. In Spanish Alchemy fire is attributed with transformational and purifying powers. Fire combines the qualities of warmth and dryness. Radiance Mask has been created following the principles of fire. Finely ground botanical and mineral active clays blended with extracts of petals and roots form this deeply purifying mask. Radiance Mask is a powerful purifier, deep cleanser, and healing mask that draws out impurities and skin secretions and noticeably reducing blemishes and blackheads. It is especially restorative for tired and neglected skin. Its high iron oxide and quartz content enhances the skin's condition and appearance. Radiance Mask is suitable for all skin types.  
Always use wood, glass or ceramic products to mix the Radiance Mask powder. Do not mix with a metal spoon or store it in a metal container. If you have extremely sensitive skin use once a week only. For all other skin types use at least 2-3 times per week (or as often as required). Prepare Radiance Mask by adding one heaped teaspoon of powder to about one and a half teaspoons of water and mixing until you get a smooth creamy paste. Apply a thick layer of Radiance Mask to your skin using a mask brush (preferably) or your fingers, avoiding the immediate eye area. For extremely sensitive or irritated skin leave the mask on for 5 minutes. For all other skin types, leave it on for about 5-10 minutes or until it has totally dried. Rinse off thoroughly with lots of warm water, then splash your face with cool water (or use a spritz of Mist of Roses). Complete the treatment with either Whipped Cream (if using during the day) or Aqua Serum Elixir (if using at night).
Zeolite, Kaolin, Quartz, Iron, micronised organic certified Rosa Centifollia petals, Organic certified Sambuccus Nigra extract, Fucus Vesiculosus extract organic certified, Our alchemic synergy from natural essential oils with active compounds: limonene, linalool, citral, geraniol, coumarin, benzoic, cinnamic acids, benzyl benzoate, vanillin and coniferyl benzoate.
7 in stock