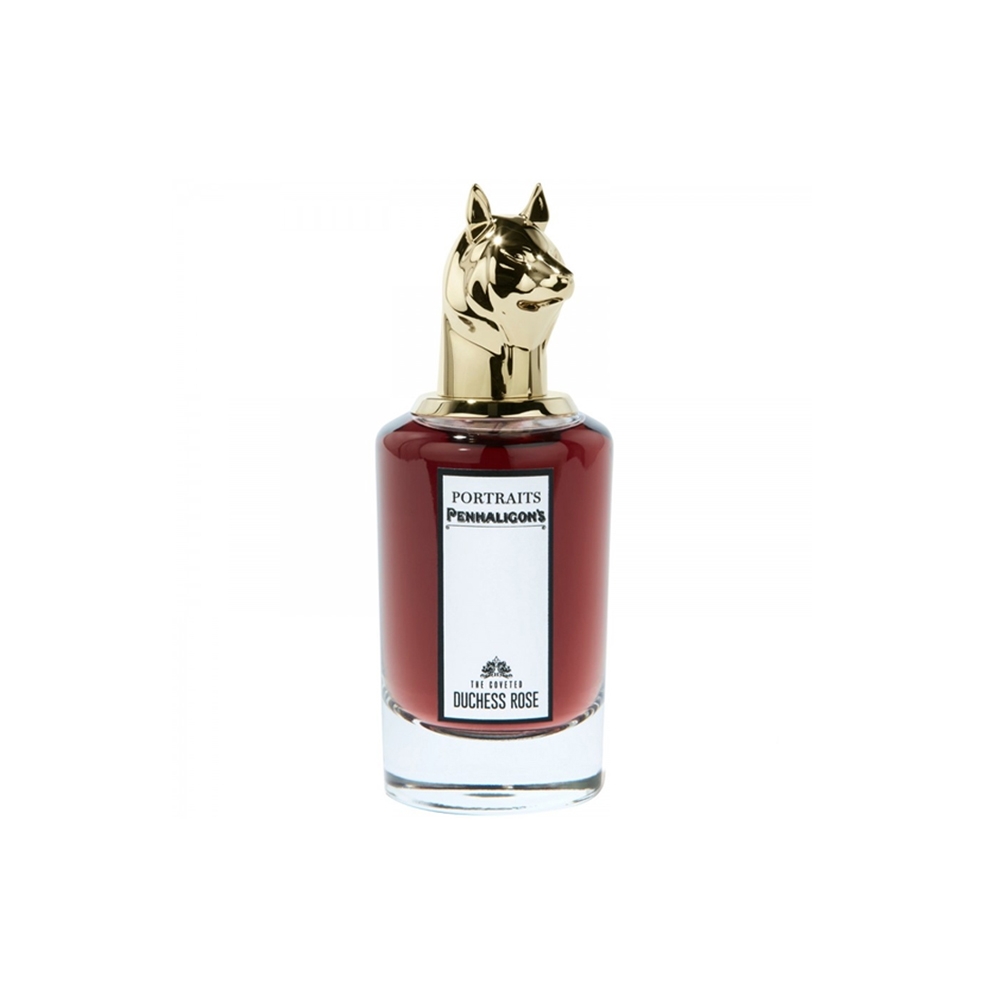 Portraits The Coveted Duchess Rose EDP 100ml
Penhaligon's Portraits collection tells the story of England's finest aristocratic families, the tangled web of intrigue, scandal and secrets. This entertaining and exquisite line pays tribute to the true English spirit: stiff upper lip, sharp wit, and a knack for provocation. The most coveted girl in London, the Duchess Rose is the darling of high society - both men and women want her in their orbit. The daughter of Lord George and Lady Blanche, she's escaped their rigid rule by marrying The Duke. An idealist, a romantic, she has become disillusioned and frustrated in an unhappy marriage. She is always looking for fun, frivolity and perhaps a little fling to entertain her. And she's not short of attention! She's not such an innocent rose, this scent has some juiciness!
 
NOTES
Top: Mandarin
Middle: Rose
Base: Musky Wood

HOW IT WEARS
The Coveted Duchess Rose is a stunning Rose perfume where the Rose really is the star of the scent. The juice of the Mandarin gives a lovely sparkle and the earthy base ensures it lasts. We generally get 6 to 8 hours on the skin.

LORE LOVES
This is a must have for any Rose fans as the rose notes really takes front and centre. There is a soft romantic feel to this fragrance that we just love. It is freshened with the Mandarin note that is so lovely on the skin.

PERFUMER
Christophe Reynaud

ABOUT THE BRAND
A classic English perfume house, William Penhaligon owned a barber shop which became a perfumery in 1870, launching his first fragrance in 1872. This fragrance was created regularly for its many fans until the store was destroyed in The Blitz of 1941. Despite the store being destroyed, the fragrance house endured and was honoured with a Royal Warrant by the Duke of Wellington in 1956 for manufacturing toiletries. Many of the classic scents in Penhaligon's collection remain to this day, while many modern scents have been added. Penhaligon's remain true to William Penhaligon's vision of fine, traditional perfumes and techniques.

FREE RETURNS
Love your fragrance or return it for free. Learn more about The Lore Promise here.


2 in stock