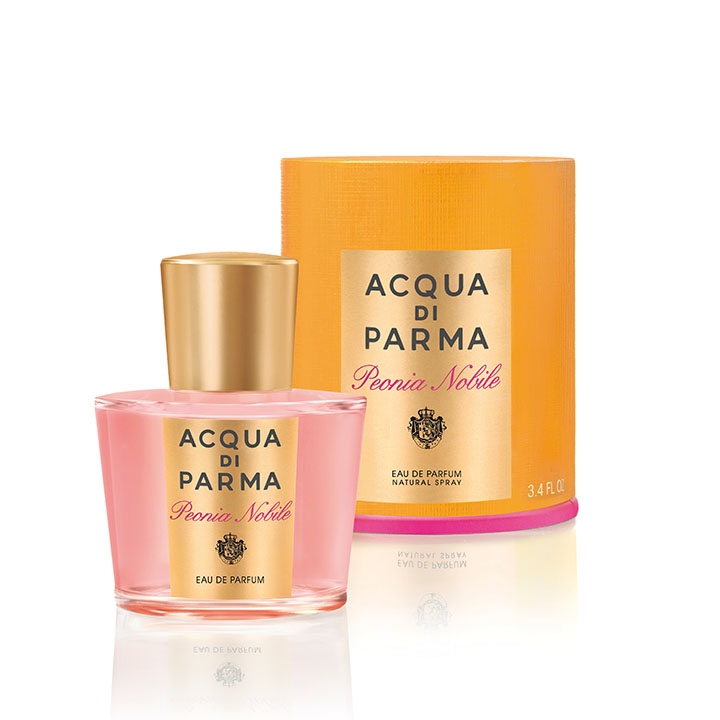 Peonia Nobile EDP 100ml
Peonia Nobile is a part of the Le Nobile Collection from Acqua di Parma, a celebration of Italy's finest flowers and an ode to their incredible sophistication and femininity.

Peonia Nobile heroes the peony flower creating sublime elegance in a bottle. The multi faceted peony is both delicate yet exuberant, supple yet energetic. Peonia Nobile captures the essence of the Peony growing in the wild in this fragrance with a bright and sparkling opening much like a spring breeze, followed by the glorious heart of Peony and the green, earthy tones of nature. An understated classic scent that captures the essence of Peony.

NOTES
Top: Black Pepper, Raspberry Accord
Middle: Peony Accord, Egyptian Geranium, Freesia Accord, Turkish Rose
Base: Amber Accord, Indonesian Patchouli, Musk

PERFUMER
Undisclosed

HOW IT WEARS
A floral Eau de Parfum with purpose, this Peony scent will give last impressions, holding to the skin for 6-8 hours. Softly landing on a floral for the mind and soul to enjoy for hours to come. There is a sweet floral feel as the Peony and Rose notes shine through, a slight juicy sharpness in the opening and the greener tones of Geranium ensuring this fragrance captures the scent of nature.

LORE LOVES
We love it when a floral scent offers exactly what it's set out to, bursting with juicy and earthy aromas of Peony and Turkish Rose, this Eau de Parfum is sure to delight even the fussiest. And particularly for those with a penchant for the gorgeous Peony flowers. This fragrance smells pink, if you can imagine that!

ABOUT THE BRAND
With the creation of the iconic Colonia fragrance in 1916, Acqua di Parma has grown to become one of the leading Italian perfume houses. With Colonia's popularity gaining momentum both pre war in the 1930's and post war in the 1950's, it is renowned for being an exclusive high society perfume house. Wth a star studded clientele and classic formulations, Acqua di Parma captures the essence of Italy and its finest ingredients in true style.

FREE RETURNS
Love your fragrance or return it for free. Learn more about The Lore Promise here. 
1 in stock