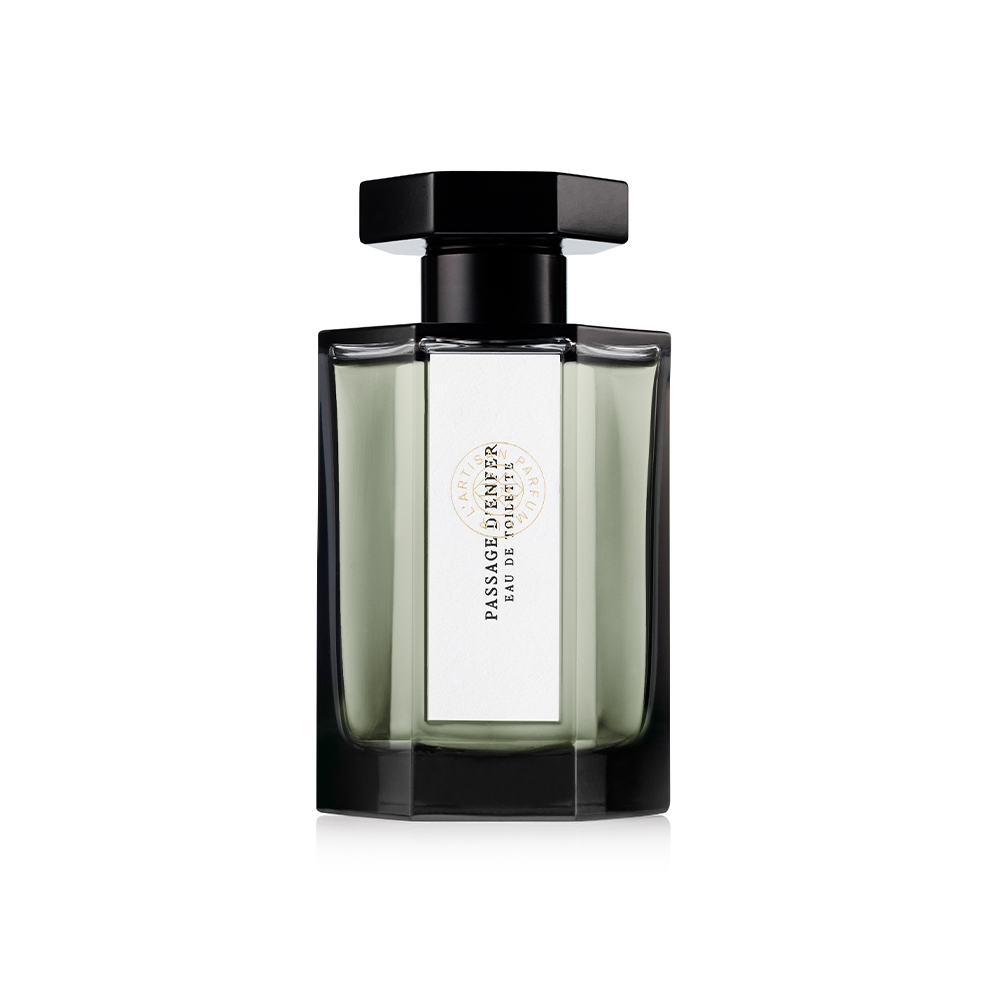 Passage d'Enfer EDT 100Ml
Passage d'Enfer was inspired by the Parisian location of L'Artisan Parfumeur's office in the 1970s. Translating to 'hells passage', Passage d'Enfer conjures up images of chilled cathedral walls and the esoteric echoes of rituals and incantations. Translucent and pure notes of White Lily and White Musk soften the balsamic smoke of Incense. Passage d'Enfer is also a wicked play on words, the symbolic "hells passage", a moment caught between two worlds – hell and paradise. The name may be dark and unsettling, but the scent itself is tranquil and contemplative. A fragrance that represents the complexities and layers in all of us – the good and bad within us all and the dance that these two faces perform. Passage d'Enfer takes us into our inner realms, our inner space.

NOTES
Top: Incense
Middle: White Lily
Base: Cedarwood, White Musk

HOW IT WEARS
Passage d'Enfer opens with a clean, soapy like quality to it. Crisp and clean to begin with, this settles quickly and the incense creates a really interesting element to the fragrance. This fragrance settles into an earthy, deep musky and soft woody tone with longevity of around 6 hours on the skin.

LORE LOVES
We love how Passage d'Enfer conjures up images of somewhere ancient and mysterious. The contrasts in this fragrance play together so seamlessly and elegantly. The fresh clean Lily guides the way through the haze of incense to a peaceful soft tone on the skin. This scent is calming with a clean, yet quite interesting blend.

PERFUMER
Olivia Giacobetti

ABOUT THE BRAND 
L'Artisan Parfumeur, the original niche perfume house was launched in 1976. The iconic French perfume house has paved the way for niche perfumes, while working with some of the world's best noses. L'Artisan Parfumeur continues to innovate and create artisan, niche perfumes. A perfume collection for the perfume connoisseurs, L'Artisan's signature perfume style remains at the forefront of the niche perfume world setting trends and creating unique masterpieces.

FREE RETURNS
Love your fragrance or return it for free. Learn more about The Lore Promise here. 
1 in stock