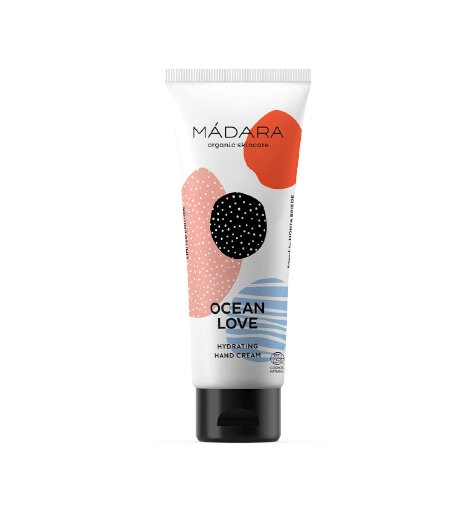 Ocean Love Hydrating Hand Cream 75ml
This eco-conscious hand cream keeps your hands soft and nourished the natural way. The little tube was probably a soda bottle in its past life.

Formulated with shea and cocoa butters, antibacterial extracts of cranberry, quince and camomile, as well as the soothing extract of Centella Asiatica (CICA), this skin-friendly and earth-conscious hand cream leaves your skin soft, nourished and lastingly protected.

100% Biodegradable formula
Natural certified
Vegan
Cruelty-free
Ocean-friendly ingredients
Tube made from 55% recycled material

RECYCLE ME, PLEASE Give this tube another life, so that you can walk on clean shores.
AquaAlcoholHelianthus Annuus (Sunflower) Seed OilGlycerinButyrospermum Parkii (Shea Butter) Fruit ButterTheobroma Cacao (Cocoa) Seed ButterPolyglyceryl-6 StearateCetearyl AlcoholDicaprylyl CarbonateIsoamyl LaurateBetaineAromaCellulosePolyglyceryl-6 BehenatePalmitic acidStearic AcidXanthan GumChamomilla Recutita (Camomile) Flower ExtractPyrus Cydonia (Quince) Fruit ExtractVaccinium Macrocarpon (Cranberry) Seed OilAscorbyl Palmitate (Vitamin C)TocopherolSodium phytateLactic AcidCentella Asiatica (Pennywort) Leaf ExtractLimoneneCitralLinalool *Please note that ingredient lists may change and slightly vary from time to time. You will always find the most up-to-date information on the actual product packaging.
6 in stock