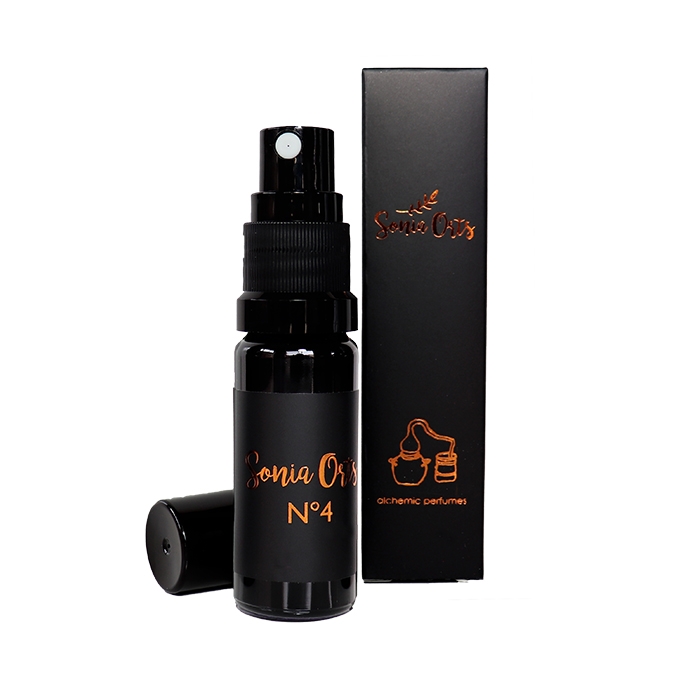 No 4 EDP 10ml
The Alchemic Perfumes are my signature product; natural and organic fragrances made by an ancient alchemical process called Spagyric*. I create only eau de parfum as I believe organic perfumes should be luxurious and last longer.

Sonia Orts Nº4 is a floral fruity eau de parfum that is reminiscent of a 1950s movie star with a clinched waist and a voluminous skirt walking self-confidently in her stunning high heels. Nº4 was created for the feminine soul – it embodies the free spirit of a self-confident woman that embraces her femininity. Classy, elegant and utterly feminine this timeless floral fragrance indulges your senses in tropical summer nights, exhilarating your emotions with a whirlwind of happiness. Sonia Orts Nº4 is an exquisite floral bouquet with a captivating trail – a blissful floral extravaganza.

Mood A truly mood-lifting fragrance for the feminine soul, N º4 brings the sun to your heart. Like a comforting towel that envelops you after a bath, Nº4 wraps you in a safe space. Created for the ageless woman who celebrates her femininity. A nod to a cheeky smile and a hymn to the feminine curves and enigmatic sensuality of the daughters of the moon.
The key is to spray onto the "pulse points." These include, but are not limited to, knees, elbows, collarbone, wrists and neck. These places are where the perfume will be most effective. Apply the perfume before you put your clothes on because the molecules also need to interact directly with your skin.
Spagyric of Passiflora Edulis (passion fruit) extract, Spagyric of Paeonia suffruticosa (peony) extract Ethanol (organic sourced from sugar cane) and Our alchemic synergy from natural essential oils with active compounds: Limonene, benzyl acetate, linalool, benzyl alcohol, indole, benzyl benzoate, cis-jasmone, benzyl salicylate, farnesol, Eugenol, B-Myrcene ,vanillin and Rose damascene hydrosol
4 in stock