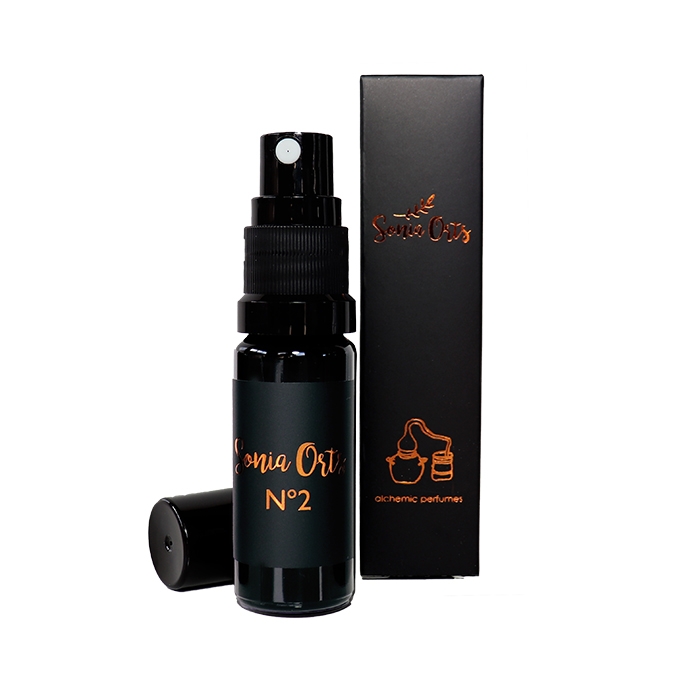 No 2 EDP 10ml
The Alchemic Perfumes are Sonia's signature product; natural and organic fragrances made by an ancient alchemical process called Spagyric*. Although the purpose of a perfume is quintessentially to envelop you up in a captivating fragrance, an alchemic perfume will take you beyond. It is an exquisite perfume made not just by blending ingredients; a perfume tuning your mood and evolving along with you. Sonia Orts Alchemic Perfumes are 100% natural made only with raw botanical ingredients, organic and wild harvested whenever possible, plant based and food grade alcohol (ethanol sourced from sugar cane) and therapeutic grade steam distilled pure essential oils. The Alchemic Perfumes are toxin free which means they don't contain heavy metals, phthalates, synthetics fragrances, petro-chemicals, PEGs, or synthetic preservatives. The Alchemic Perfumes are eco-green clean fragrances.

Sonia Orts Nº2 is inspired by Sonia's memories of my Mediterranean summers. Freshly picked lemons filling the air with their sparkling scent. The warm day slips away, with only a gentle wind under a light blue sky. Hearing the whispered splash of the waves gently lapping the shore. The soothing noise, along with the gentle rocking of the hammock lulling you into a Zen calm. The orange blossom scent was enveloping the atmosphere along with the freshness of the earthy cypress as the sun went down. Pinks, oranges and dusky purples were painting the sky at dusk; a last burst of excitement as the birds flew away to their nest announcing the imminent dark of the night. Tiny little stars sliding into their places as the sun slowly surrenders to the nocturnal seduction of jasmine fragrance. ...Just as the summers were in the Mediterranean. With notes of Bergamot, Lemon, Neroli and Cypress.

Mood Nº2 is a therapeutic 100% natural perfume.The body is perfumed; the soul and mind are awakened. It is invigorating as invoking a spring day for its tonic green and citric aromas that create sensations of well-being and freshness.
The key is to spray onto the "pulse points." These include, but are not limited to, knees, elbows, collarbone, wrists and neck. These places are where the perfume will be most effective. Apply the perfume before you put your clothes on because the molecules also need to interact directly with your skin.
Spagyric of Althaea officinalis (marshmallow) extract, Iris florentina (orris) root extract, Ethanol (organic sourced from sugar cane) and Our alchemic synergy from natural essential oils with active compounds: Limonene, Linalool, Citral, Eugenol, B-Myrcene, Nerol, Linalyl Acetate, Benzyl benzoate, A-pinene, Neroli hydrosol.
Out of stock
Get an alert when the product is in stock: