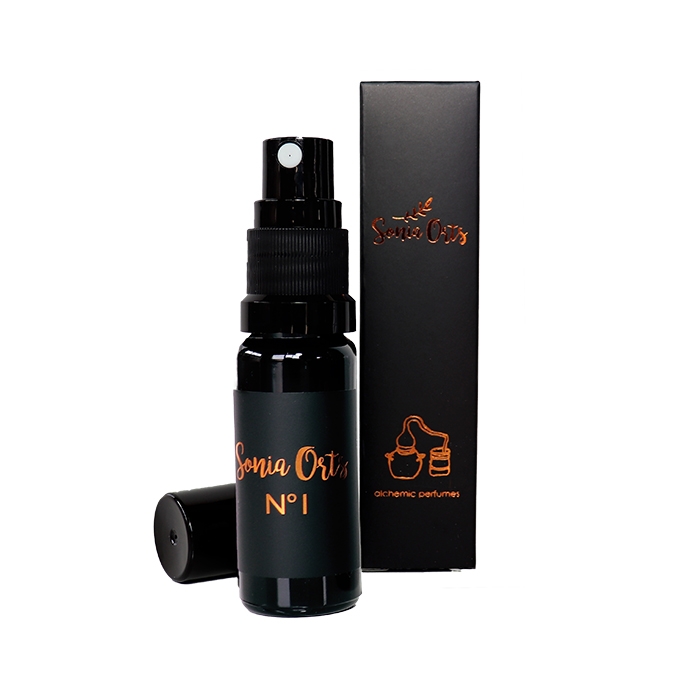 No 1 EDP 10ml
The Alchemic Perfumes are Sonia's signature product; natural and organic fragrances made by an ancient alchemical process called Spagyric*. Although the purpose of a perfume is quintessentially to envelop you up in a captivating fragrance, an alchemic perfume will take you beyond. It is an exquisite perfume made not just by blending ingredients; a perfume tuning your mood and evolving along with you. Sonia Orts Alchemic Perfumes are 100% natural made only with raw botanical ingredients, organic and wild harvested whenever possible, plant based and food grade alcohol (ethanol sourced from sugar cane) and therapeutic grade steam distilled pure essential oils. The Alchemic Perfumes are toxin free which means they don't contain heavy metals, phthalates, synthetics fragrances, petro-chemicals, PEGs, or synthetic preservatives. The Alchemic Perfumes are eco-green clean fragrances.

Sonia Orts Nº1 is royal alchemy; inspired by the legendary alchemical recipe of the Hungarian Queen Water, considered the first perfume in history. Hungarian Queen Water was created by an alchemist in the 1300s to restore Queen Elisabeth of Hungary's health and it was so effective that the formulation became notoriously popular among the ladies of that period. There is much debate over the history of this ancient recipe, however the Queen Elisabeth of Hungary was well known in Europe for her beauty and powerful seductiveness. According to the legend, the tonic reversed her appearance so much that the 25 year old grand-duke of Lithuania asked for her hand in marriage when she was 70. ... Travel back in time to the alchemical beauty secrets of the royal courts. With notes of Sicilian Lemon, Neroli, Peru Balsam and Australian Blue Cypress.

Mood Nº1 is a therapeutic 100% natural perfume that uplifts and revitalises your mood. Nº1 lends energy, is an anti-rheumatic, stimulates circulation, while fighting against physical and mental tiredness. Highly concentrated spagyrics of greens such as rosemary and sage with a pinch of purple lavender infused with amethyst and fluorite to delight your senses.
The key is to spray onto the "pulse points." These include, but are not limited to, knees, elbows, collarbone, wrists and neck. These places are where the perfume will be most effective. Apply the perfume before you put your clothes on because the molecules also need to interact directly with your skin.
Spagyric of Rosmarinus officinalis (rosemary) extract, Lavandula fragans (lavender) extract, Thymus vulgaris (thyme) extract, Salvia officinalis (sage) extract, Ethanol (organic sourced from sugar cane) and Our alchemic synergy from natural essential oils with active compounds: Limonene, Linalool, Geraniol, Citral, Eugenol, Benzyl benzoate, Coumarin, Lavender hydrosol.
Out of stock
Get an alert when the product is in stock: