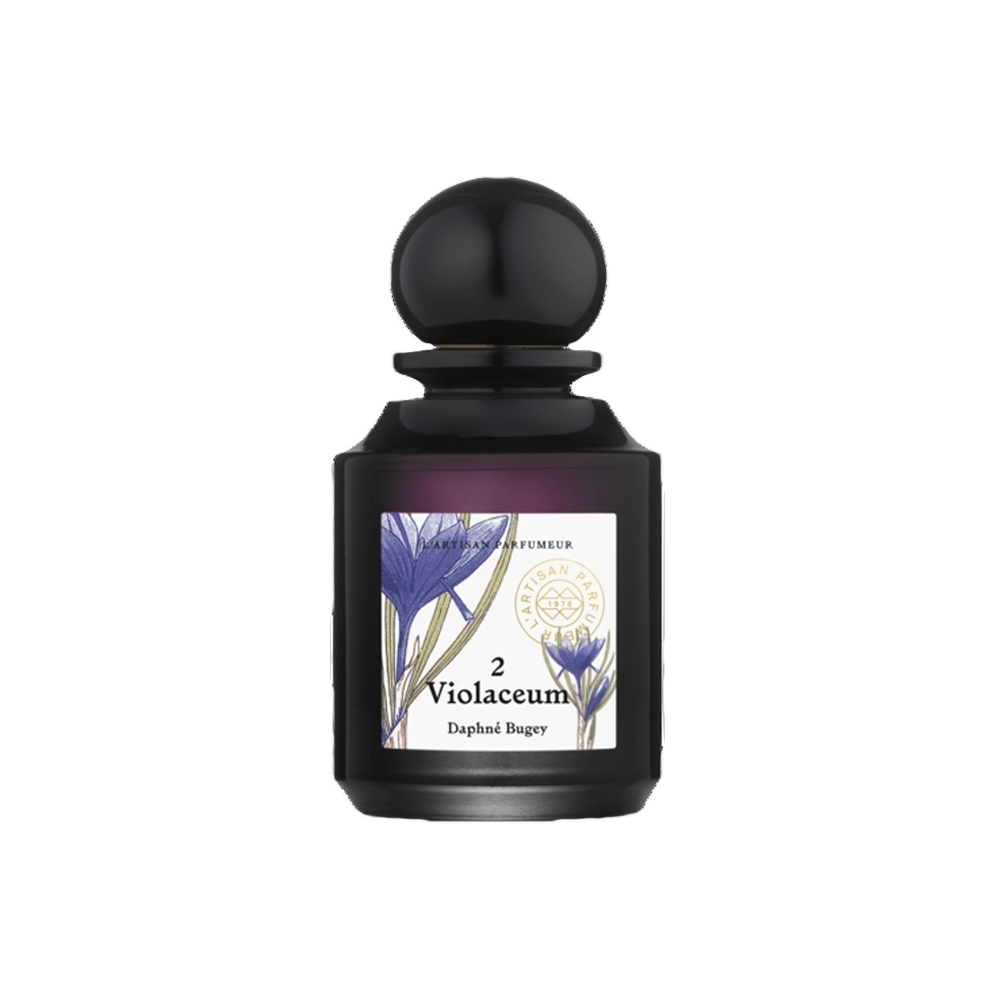 Natura Fabularis Violaceum EDP 75ml
L'Artisan Parfumeur fragrances create the perfect harmony between nature and the imaginary – Natura Fabularis is Daphne Bugey's imagined gardens around the world. Stemming from the philosophy that the Cabinet of Curiosities played a major role in the circulation of knowledge and ideas, the Natura Fabularis collection pays homage to Emille Deyrolles work, specializing in flora and fauna. Deyrolle's mission was to explain the Earth to people – committed to the 3 fields of activities – Nature, Art, Education. To draw inspiration from nature, to enhance its beauty through art and to transmit this to people through education.

Natura Fabularis explores nature in its most abstract, a mysterious olfactive experience. The power of the imagination, bringing nature to life through scent. Each number noted on the bottle of each scent refers to the number of edits that were made to the original formula.

Violecuem is the olfactory creation that describes the the fragility of nature and the passage of time. It only takes a second for the beauty of a flower to topple over into darkness. Dark purple violets covering the mossy ground - L'Artisan Parfumeur takes the innocence and the delicate tones of a Violet and fuses it with the earthy and well worn notes of Leather, Saffron and Carrot. Almost conjuring the fresh, earthy tones of the forest floor, Violeceum demonstrates that even though violets are are delicate in nature, they are not prone to sentimentality as they evolve.

NOTES
Top: Carrot, Saffron
Middle: Violet
Base: Leather

HOW IT WEARS
The Leather note offer a really creamy feel to Violeceum, however the Violet and Carrot offer some texture to the Leather in such a unique way. The result is a fresh crisp scent as the Carrot note is quite prominent, with the depth of Violet and Leather softening it. We generally get around 6 - 8 hours wear on the skin. This is one perfume that gets better and better with time!

LORE LOVES
We just love the crisp and unusual note of Carrot in this scent to create some lightness, a fresh quality to the soften and smooth the Violet and Leather notes. The contrast between the notes is beautiful, we love the textures and the layers. Violecuem is so unusual yet has a wonderful familiarity on the skin.

PERFUMER
Daphne Bugey

ABOUT THE BRAND 
L'Artisan Parfumeur, the original niche perfume house was launched in 1976. The iconic French perfume house has paved the way for niche perfumes, while working with some of the world's best noses. L'Artisan Parfumeur continues to innovate and create artisan, niche perfumes. A perfume collection for the perfume connoisseurs, L'Artisan's signature perfume style remains at the forefront of the niche perfume world setting trends and creating unique masterpieces.

FREE RETURNS
Love your fragrance or return it for free. Learn more about The Lore Promise here. 
1 in stock