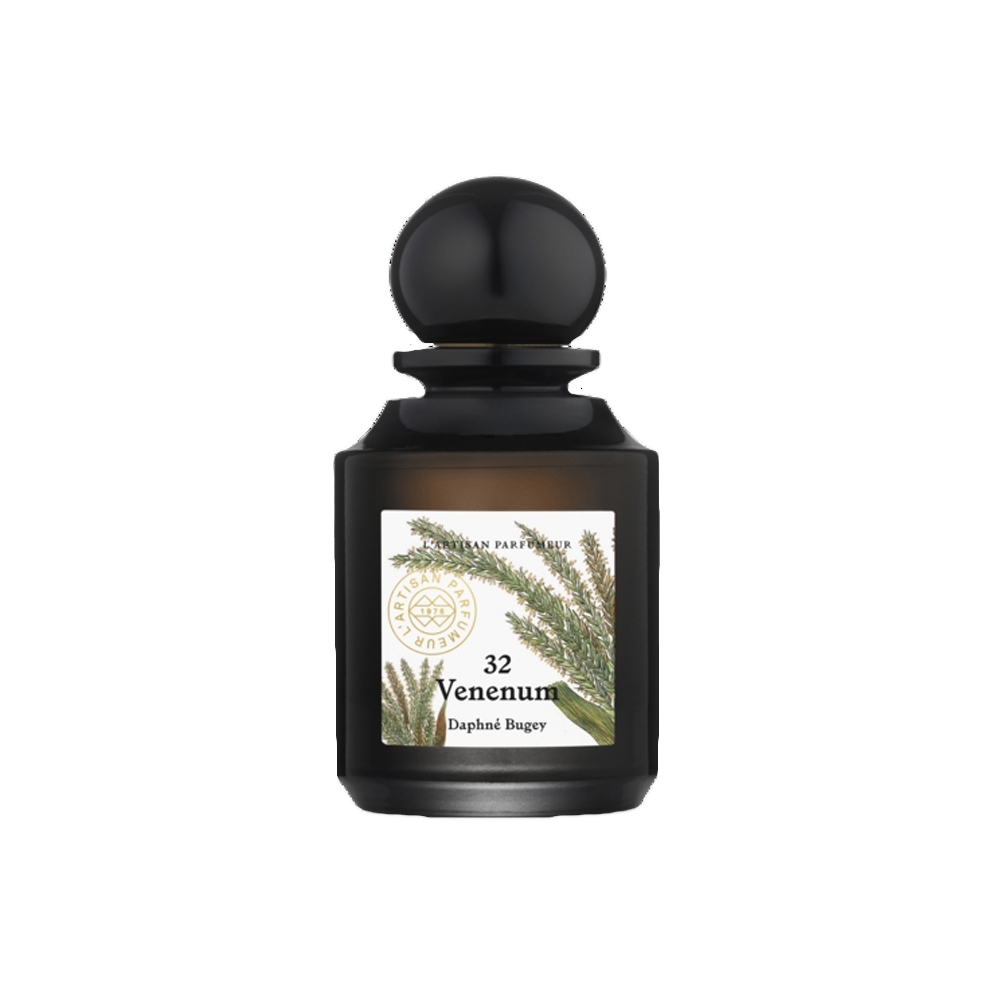 Natura Fabularis Venenum EDP 75ml
The old packaging is on sale. This fragrance is not discontinued and has been released with new packaging.

L'Artisan Parfumeur fragrances create the perfect harmony between nature and the imaginary – Natura Fabularis is Daphne Bugey's imagined gardens around the world. Stemming from the philosophy that the Cabinet of Curiosities played a major role in the circulation of knowledge and ideas, the Natura Fabularis collection pays homage to Emille Deyrolles work, specializing in flora and fauna. Deyrolle's mission was to explain the Earth to people – committed to the 3 fields of activities – Nature, Art, Education. To draw inspiration from nature, to enhance its beauty through art and to transmit this to people through education.

Natura Fabularis explores nature in its most abstract, a mysterious olfactive experience. The power of the imagination, bringing nature to life through scent. Each number noted on the bottle of each scent refers to the number of edits that were made to the original formula.

Venenum is a new exotic world come alive. A magical forest of sandalwood trees where rice is steamed while drinking spicy chai however there is also a wide golden field of grains in the distance. Venenum awakens memories and souvenirs of India without dwelling upon it. It oscillates between the scent of hot freshly baked bread, milky clouds, spicy tea and smooth sandalwood. As though you have wandered off track in the beautiful big forest filled with Sandalwood trees and suddenly all of the magical warm spices come alive.

NOTES
Top: Cereal, Rice
Middle: Sandalwood, Milk, Bread
Base: Tea, Masala Spices

HOW IT WEARS
Venenum is an amazing scent for any Sandalwood lovers out there as the Sandalwood is quite prominent. The soft spicy undertones and deliciously creamy gourmand notes create a gorgeous warmth to the scent that lasts for around 8 hours and is the perfect winter companion.

LORE LOVES
We love that Venenum is like a warm and creamy dessert, uber comforting and decadent. We love a perfume that can be balanced so seamlessly with the soft gourmand notes and the woody depth of Sandalwood. The spice, hint of bread, and creamy woods creates a truly unique blend that we think works so magically.

PERFUMER
Daphne Bugey

ABOUT THE BRAND 
L'Artisan Parfumeur, the original niche perfume house was launched in 1976. The iconic French perfume house has paved the way for niche perfumes, while working with some of the world's best noses. L'Artisan Parfumeur continues to innovate and create artisan, niche perfumes. A perfume collection for the perfume connoisseurs, L'Artisan's signature perfume style remains at the forefront of the niche perfume world setting trends and creating unique masterpieces.

FREE RETURNS
Love your fragrance or return it for free. Learn more about The Lore Promise here. 
3 in stock