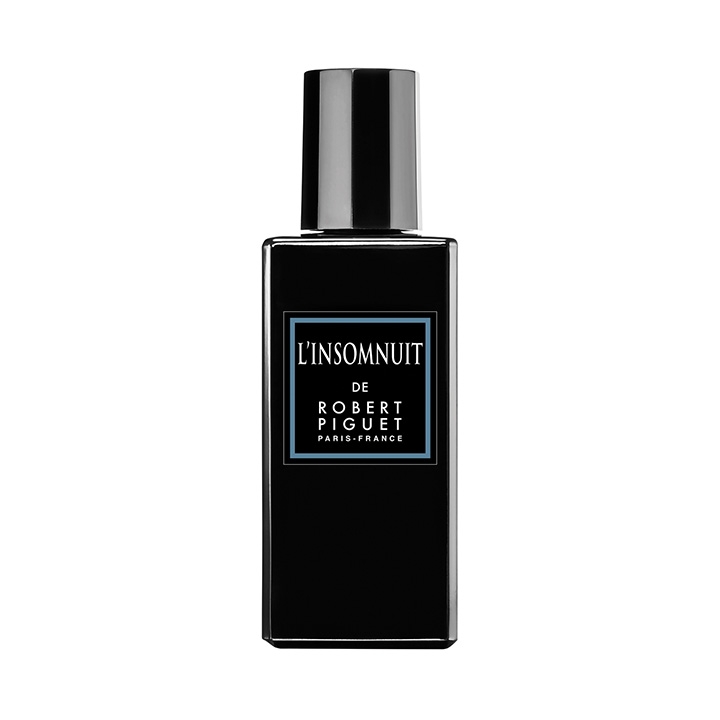 L'Insomnuit EDP 100ml
A perfect dreamscape. When the liturgy of the night flows from clarity to dream state, L'Insomnuit by Robert Piguet sings a siren song. Like a veil that embraces light and dark, calm and chaos, the fragrance conjures yearning with duality. A dark, haunting and mysterious fragrance featuring a midnight Iris that alludes to insomnia, igniting your senses with the dramatic and bewitching. The pairing of flowers, resins, and woods play like a haunting dreamscape. At once beautiful and unsettling, L'Insomnuit is the fragrant mystery that plays from dusk until dawn.

L'Insomnuit opens with a boozy, scintillating Plum accord accentuated by Bergamot and Fir Balsam. The heart of the scent is quick to open with explosive notes of Iris Absolu and Iris Concrete that both excite and bother: A beautiful upset. Oud gestures to the sumptuous finale with its sinewy resin. Cedar, Cipriol, and Tonka Absolute lay the woody footpath to the scent's foundation with sandalwood burning like final velvety vapor from an extinguished candle.

NOTES
Top: Bergamot oil, Incense SFE, Plum
Middle: Iris Absolute, Iris Concrete
Base: Oud, Atlas Cedar, Cypriol, Tonka Absolute, Sandalwood

PERFUMER
Undisclosed

HOW IT WEARS
L'Insomnuit is an Eau De Parfum which should give anywhere from 6 - 8 hours worth of wear on the skin. The natural powder sweetness of iris, balanced with warm spice, tonka, woods and a delicate touch of citrus on top, give it a slightly balsamic, dark and dreamy aura, like a warm sensation of delicious calm and relaxation. Great sillage and longevity.

LORE LOVES
We adore the way L'Insomnuit creates an feeling of intoxicating luxury, despite being named after a bout of insomnia or sleepless night. Perhaps the kind you might spend longing for the touch of a loved ones embrace, or listless sleep punctuated by dreams of poetic escape. Like a lush velvety blanket under the cover of night, L'Insomnuit is both dark and alluring, comforting and most definitely dreamy!

ABOUT THE BRAND
An iconic French perfume line that changed the world of perfumery. Beginning his career in the world of haute couture, Piguet taught many of the greats under his legendary fashion house, Hubert de Givenchy, Christian Dior, Pierre Balmain and Marc Bohan to name a few. While Piguet's impact on fashion is indisputable, it is his legacy in the world of perfume that has made Robert Piguet legendary; known for his ability to create the most elegant of fragrances with the most legendary perfumers of his generation.

FREE RETURNS
Love your fragrance or return it for free. Learn more about The Lore Promise here. 
1 in stock