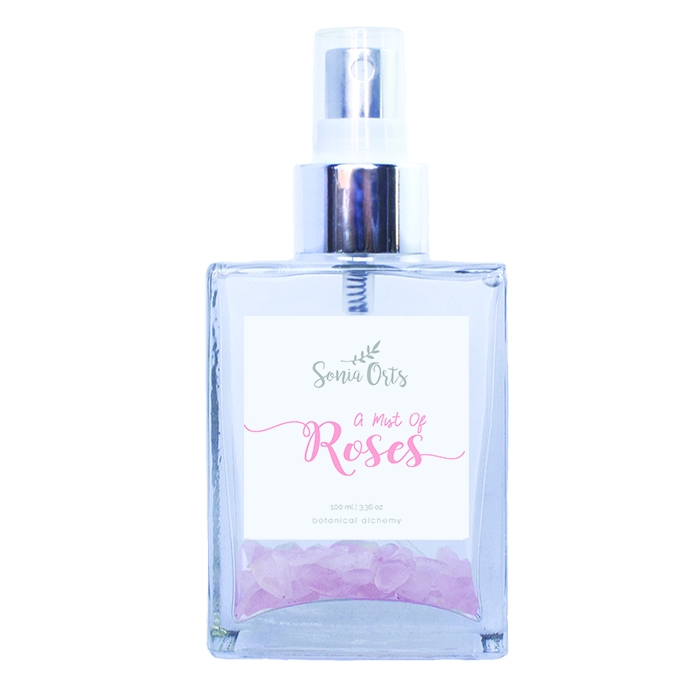 Facial Mist – a Mist of Roses 100ml
A luxurious rose facial mist! Perfect for mixing in with the Sonia Orts cleanser and mask!

Rosa Damascena and its essential oil is one of the timeless symbols of Bulgaria. For over 300 years the inhabitants of the Valley of Roses – also known as the pink valleys of Bulgaria – have grown roses and processed them into Bulgarian rose essential oil.The velvety petals of this highly aromatic and delicate flower are picked individually by hand at dawn, just before it comes into full bloom.

+Bulgarian Rose Hydrosol, also known as Floral Water - not to be confused with floral-infused water - is high in nutrients. It may be applied directly to your face as a calming toner, mild makeup remover, or as a mist to refresh your skin in dry conditions. This beautifully scented daily mist restores and hydrates your skin complexion.
+Rose quartz crystals: We have added rose quartz crystals to help you tune into your feminine energy and honour your love of self. The rose quartz boosts your energy and rejuvenates your skin so you can envelop yourself in a veil of confidence and beauty. Mist of Roses is suitable for all skin types.


Close your eyes and gently spray the mist on your face to refresh, tone and hydrate your skin.
Rosa damascena miller hydrosol, rose quartz crystals
3 in stock