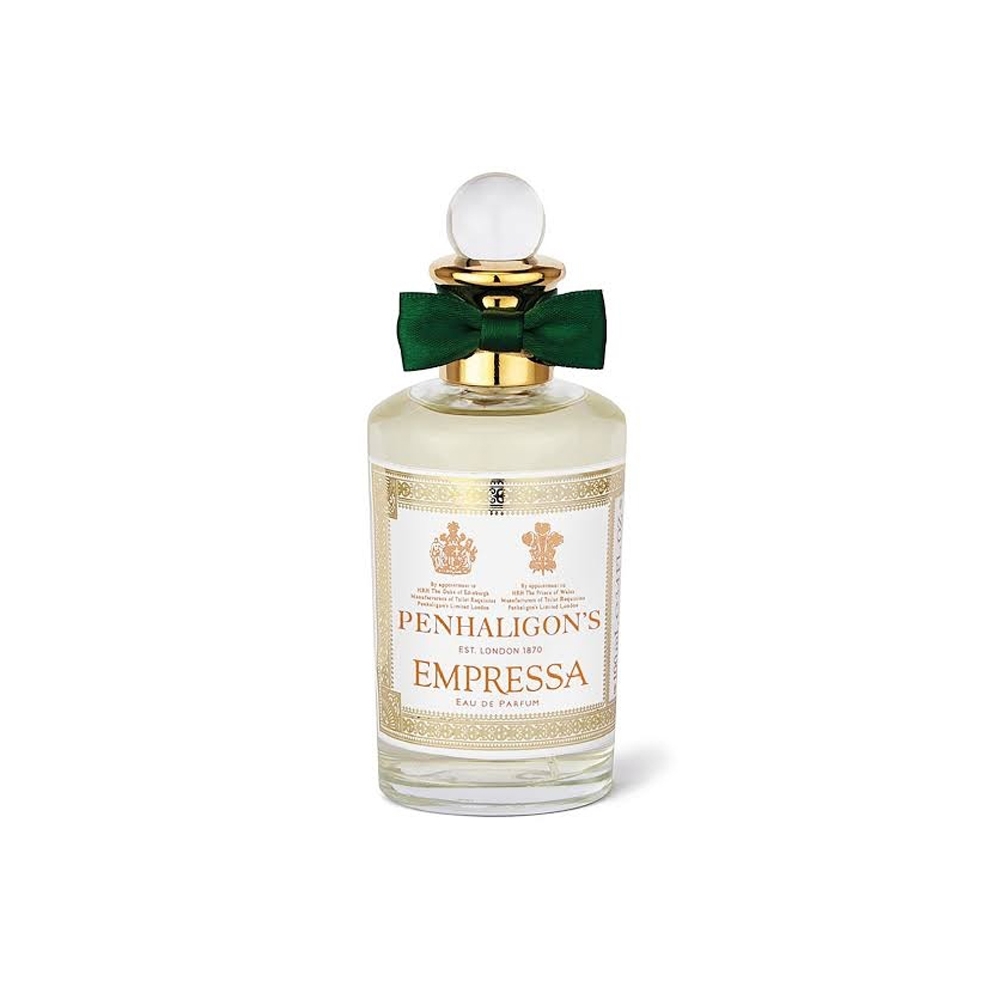 Empressa EDP 100ml
Empressa is a part of Penhaligon's Trade Routes Collection. In this fragrance, Empressa tells the story of the silk trade. An opulent and feminine scent that bewitches those around it, like one would expect of any Empress. This fragrance is gentle, soft and layered – inspired by the silk trade. At the turn of the 18th century silk merchants realised the benefits of gently wrapping their silk in dried patchouli leaves to ensure that their precious cargo would arrive in the Middle East undamaged and ready to trade. As an ode to this practise, Empressa features the soft earthy tones of Patchouli blanketed with bright fruits, then softened by the precious Damascus Rose. The seductive and smooth base is warm, rich and full bodied just like the finest of silks.

NOTES
Top: Blood Orange, Bergamot, Mandarin, Peach, Cassis, Pink Pepper
Middle: Cassis, Dewberry, Rose, Neroli, Geranium
Base: Nutmeg, Vanilla Pod, Frankincense, Cocoa, Amber, Musk, Patchouli, Sandalwood

PERFUMER
Christian Provenzano

HOW IT WEARS
The Eau de Parfum Empressa tends to last around 8 hours on the skin. With this great longevity you can enjoy this fresh fruity floral the whole day. The note of Patchouli mingles elegantly with the sweet fruity notes creating a sparkling and warm tone on the skin, and the soft Rose shines through creating a smooth delicateness to Empressa.

LORE LOVES
We love how delicious and bright this floral is. With touches of Mandarin, Peach and Cocoa it is no wonder this fragrance falls into the Gourmand category, we get a little hungry just talking about it! Add in the Juicy and intriguing note of the Blood Orange and mix that with the classically fantastic Rose and Patchouli pairing, and Empressa speaks volumes of classic sophistication, with a fun and perhaps even flirty side to it. Just in case things weren't interesting enough, there is even a touch of Frankincense and a blend of Peppers in this delicious concoction to add an Oriental point that cuts through the richness of the fruit and floral. A gourmand delicacy that just keeps giving and is only ever pleasing. This fragrance somehow, with all of this and more, remains to be light, bright and oh so inviting.

ABOUT THE BRAND
A classic English perfume house, William Penhaligon owned a barbershop, which became a perfumery in 1870, launching his first fragrance in 1872. This fragrance was created regularly for its many fans until the store was destroyed in The Blitz of 1941. Despite the store being destroyed, the fragrance house endured and was honoured with a Royal Warrant by the Duke of Wellington in 1956 for manufacturing toiletries. Many of the classic scents in Penhaligon's collection remain to this day, while many modern scents have been added. Penhaligon's remain true to William Penhaligon's vision of fine, traditional perfumes and techniques.
2 in stock