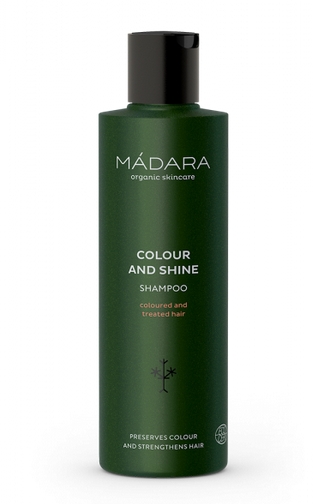 Colour and Shine Shampoo 250ml
Colour enhancing shampoo enriched with Northern Linseed, Horse Chestnut and Plantain. Gently cleanses and protects treated and coloured hair. Adds vigour and shine. Hair becomes softer to the touch and reflects luminous light.

This shampoo is packaged in a 100% post-consumer recycled bottle to reduce the volume of new plastic bottles made each year!
Massage into wet hair. Lather and rinse. For best results, use with MÁDARA Colour and Shine Conditioner.

AquaSodium coco sulphateCoco GlucosideRosa Damascena (Rosa) Flower WaterCocamidopropyl BetaineBetaineSodium ChlorideGlyceryl OleateLactic AcidAromaBenzyl AlcoholPlantago Major (Plantain) Leaf ExtractAesculus Hippocastanum (Horse-chestnut) Seed ExtractLinum Usitatissimum (Flax/Linseed) Seed ExtractBrassica AlcoholCitric acidHydrolyzed Wheat ProteinSodium BenzoateBrasissyl Isoleucinate EsylatePotassium SorbateLimoneneLinalool
2 in stock