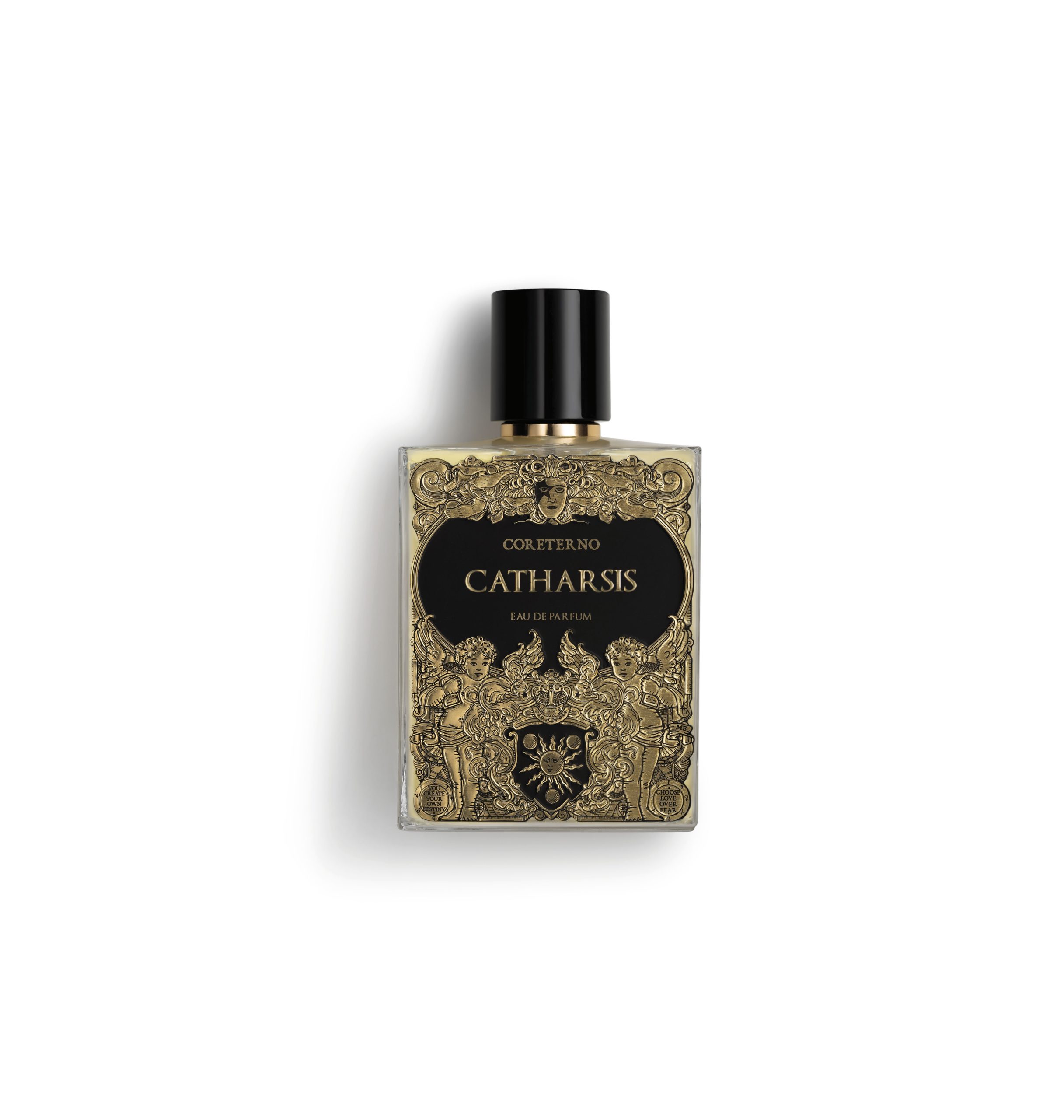 Fragrance Collection – Catharsis EDP 100ml
Powerful, bold fragrance, a combination of declaredly aggressive ingredients. The spicy notes of cloves and nutmeg are only slightly softened by neroli, which has no time to fully express itself because dragged into the heart where saffron and whiskey dominate the floral accord of ylang and rose. The declaration of war comes from the bottom of the fragrance. Oud, Guaiaco, Cedar and a powerful leather accord leave their mark on the wearer's skin.

NOTES
Top: Nutmeg, Cloves, Neroli
Middle: Ylang Ylang, Saffron, Rose, Whiskey
Base: Oud, Guaiac Wood, Cedar Wood, Leather Scent
HOW IT WEARS

Catharsis opens with a gorgeous spice and a playful hint of Citrus, however the rich earthy tones come to the surface creating a warm and intoxicating base. The Leather note creates a smooth creaminess and the warmth of the Oud. Catharsis wears beautifully on the skin and lasts for 8 hours easily.
LORE LOVES 
Catharsis really is cathartic for those who enjoy a scent full of earthy tones - spices, a hint of floral and finally the full-bodied woody tones to create a grounded and smooth fragrance. A scent inspired by reinvention and experimentation because that's where life should begin. That's when you set yourself on fire and you put down the violin and pick up the electric guitar.

PERFUMER
Luca Maffei

ABOUT THE BRAND
Created by Italian born couple Francilla and Michelangelo, working from their (family owned) gothic castle in the heart of Rome, Coreterno is a unique and renowned candle brand that combines Renaissance art with modern rock n roll references. As an ode to their ancestry, Coreterno reference their Italian history of art throughout the collection, even working with an artisan design house to create their (patented) labels that dates back to the Renaissance. In 2020 Coreterno launched their fragrance collection reflecting the world of rock n roll, pop and underground music from the 70s, along with a passion for classic art masterpieces fallen into oblivion, recovered and projected into a future that has a rebellious soul. The perfume collection is imbued with hope and positivity. Each fragrance has a mystical, enveloping and unconventional power that will awaken the inner rockstar in you.
4 in stock