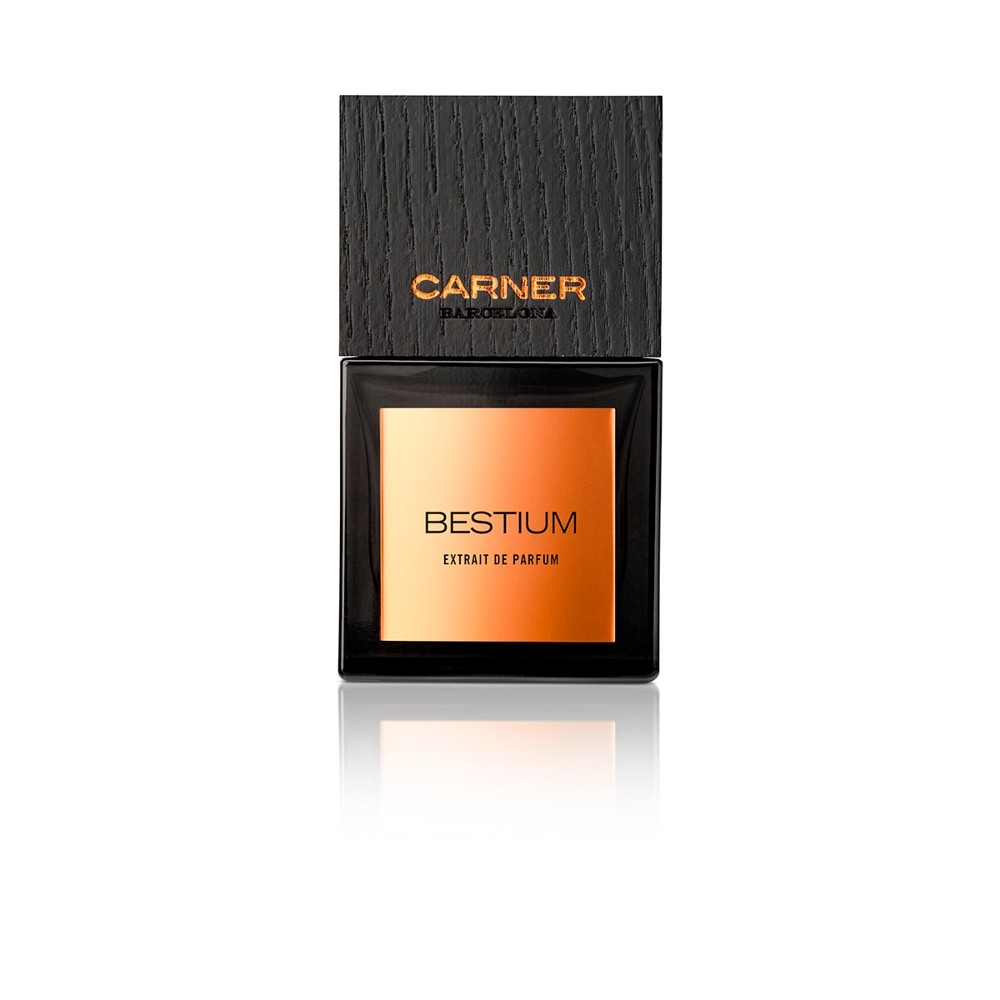 Bestium Parfum 50ml
Carner's Bestium is a fusion of the gothic and exotic. Inspiration for the scent comes from figures found in medieval bestiaries, popular folklore and legends that were given form by Modernist architects… creatures such as twin-headed eagles, horses, pegasus, bats and salamanders. Dark natural Oud Wood Palao holds this complex animalic fragrance. It is blended with Turkish and Bulgarian roses that disclose its full intensity and extreme character. Encased a hand crafted wooden box that exudes sophistication and contemporary luxury.

Carner Barcelona use only the highest grade and ethically sourced materials ingredients when creating each fragrance.

NOTES
Top: Turkish Rose, Bulgarian Rose, Saffron, Italian Bergamot
Middle: Chinese Osmanthus, Indonesian Patchouli, Somalian Frankincense
Base: Oud Palao, Spanish Cistus, Somalian Frankincense

PERFUMER
Jordi Fernandez

ABOUT THE BRAND
Created by Sara Carner in 2008, the Carner Barcelona perfume collection is a beautiful, modern and sophisticated ode to her home of Barcelona. Capturing the essence of the Barcelona's Mediterranean soul, Carner Barcelona has a unique vibrance much like the city itself. Each scent has its own identity and tells the story of Barcelona, from its culture, to its architecture, lifestyle and people. Entirely produced in Barcelona, using local artisans, the Carner Barcelona perfume line merges tradition with modern innovation to truly infuse each scent with the Mediterranean spirit. The wooden caps on each bottle of perfume are sourced ethically from sustainable European forests then engraved by hand in Barcelona. The elegant glass bottles portray the effortlessly chic aesthetic of the Mediterranean coast line. And each perfume box has a special message engraved on the inside panel that evokes the emotion of each fragrance and ultimately, the spirit in which each Carner Barcelona fragrance is always "made with love".

FREE RETURNS
Love your fragrance or return it for free. Learn more about The Lore Promise here. 
1 in stock