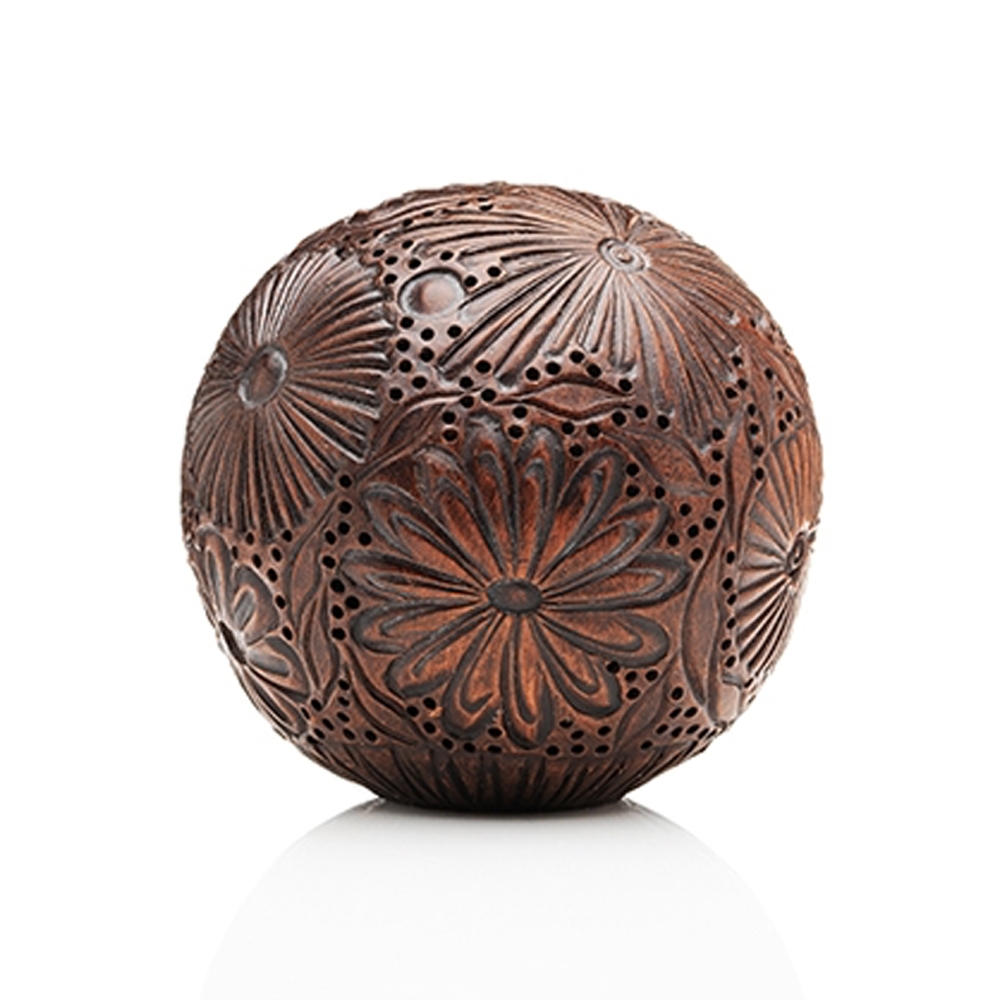 Amber Ball 50g
An olfactive experience imagined around Amber. Based on the fragrance from the iconic Eau de Parfum - L'Eau l'Ambre, L'Artisan created their original Amber Boule in 1976, and it remains a best seller to this day. An innovative way to scent the home, L'Artisan created hand made balls with botanical ingredients that smell identical to Ambergris. The exotic scent is carried naturally by the air movement, and strengthened by variations in heat or humidity. The perfume crystals encased in the centre of each elegant sphere enable the warm Amber fragrance to easily diffuse. It is a magical scent that lasts up for approximately 1 year and can be endlessly renewed by replacing the amber crystals contained within the ball.

Amber has always been a distinctive note of L'Artisan Parfumeur and their iconic Amber Ball features balmy notes blending Vanilla, Patchouli, Tonka Bean, Benzoin and Incense. Carefully formed and finely chiselled, every sphere is hand carved making each one unique. The Amber Boule represents a skill that is passed down from mother to daughter and is true to French craftsmanship. Unique to L'Artisan, the Amber Boule is a product of the finest craftsmanship with each ball being carefully handmade out of terracotta by talented artists in the North of France.

LORE LOVES
Firstly, we love the absolutely beautiful vessel of the Amber Boule - the details and artwork is incredible. Then the scent, it is like being wrapped up in the most luxurious cashmere blanket, it is the perfect scent to put in your lounge area to enjoy with a red wine in hand and an open fireplace crackling. The scent is luxurious and sophisticated. It would also work amazingly in a wardrobe to lightly scent clothing in the most delightful scent.

ABOUT THE BRAND 
L'Artisan Parfumeur, the original niche perfume house was launched in 1976. The iconic French perfume house has paved the way for niche perfumes, while working with some of the world's best noses. L'Artisan Parfumeur continues to innovate and create artisan, niche perfumes. A perfume collection for the perfume connoisseurs, L'Artisan's signature perfume style remains at the forefront of the niche perfume world setting trends and creating unique masterpieces.

2 in stock